Church signs do so much more than identify your building location; they inform as well as invite. Skyway Outdoor has designed an elegant and inviting, yet rugged line of church signs. They will present your message to the world, and at the same time, look clean and function properly, even after many years of operation in harsh weather conditions.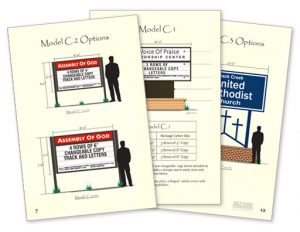 Regardless of the scope of your project, you can be confident that we have the experience, knowledge, and resources to provide the signage that is right for your location, and appealing to members and non-members alike. Contact us today and let us help you select the most effective signage for your unique situation. You can also take a look at our church sign catalog.
For over 25 years, Skyway Outdoor has been a trusted partner of many churches, large and small. We have provided outstanding customer service, high-quality signs, and expert sign installation. Our experienced team of salesmen, designers, sign fabricators, and installers are here to meet your needs in an efficient and professional manner. From concept to project completion, we will do our very best to exceed your expectations. Contact us today and put our experience, knowledge, and resources to work for you on your next sign project. Please let us know how we can help.