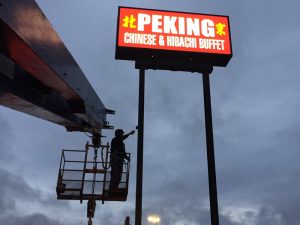 Imagine your organization's hiring process. You likely want to ensure anyone you hire will be the best possible representation of both you and your company. After all, employees are often considered the face of any given company. Interestingly, though, most people will interact with your sign before ever accessing your employees. Just as you wouldn't want a salesperson to arrive at work in dirty, unkempt clothing day after day, a dirty, outdated, or improperly lit sign can communicate a lack of business – or worse – that you aren't concerned about your company's representation.
Did you know that most customers believe signs directly reflect the quality of a company and the products and/or services they provide? This means that just as having an effective sign attracts customers, damaged signs can actually drive potential customers away. Over its lifetime, a sign can face various complications that require maintenance or repair. Below are just a few tasks Skyway's sign service experts are trained to perform:
Troubleshooting to identify the cause of inadequate lighting
Replacement of lamps, ballasts, and/or damaged wires to restore proper illumination
Replacement of faces that have been damaged by the elements, vandalism, or natural aging
Securement of signage that has come free due to extremely high winds
Repainting of signage as a result of aging, damage, or simply as part of the customer's rebranding project
Repair or replacement neon and neon components
Conversion from Neon or Fluorescent Lighting to LED-Illumination
Even if you didn't purchase your sign from Skyway, our team of experienced technicians can help get your sign back to peak condition. With over 25 years' experience, you can trust Skyway Outdoor has the knowledge and capability to resolve any of these and much more. Our sign service experts are ready to serve you. Contact us today and let us how we can help.