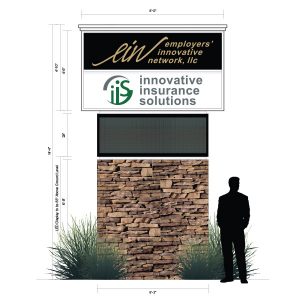 Electronic Message Centers (also called EMCs) are a kind of sign or sign element that allows for variable information. The changeable message can involve anything from a gas station's fuel prices, to the time and temperature displayed at a local bank, to information on display at a church, high school, or shopping mall. Electronic message centers may be composed of traditional incandescent lighting, LEDs, LCDs, or a flipper matrix. The common factor in all EMCs is their main purpose: to easily change out information that is in a constant state of flux. These types of signs are perfect for announcing upcoming events, welcoming distinguished guests, advertising one-day sales and other promotions, and conveying holiday wishes to your community—just to name a few.
In the past, companies had little other choices but to have a completely static sign or to change each individual letter and character as needed. This could involve climbing a ladder to reach a sign dozens of feet high or using a long, awkward pole to change outdated text. In recent years, LED Display Units have been among the most popular of EMCs. LED Display Units are especially eye-catching, efficient, and proven to increase customer engagement. Furthermore, LED displays can be updated from the comfort and safety of an office computer. That equals exponentially less risk and time involved each time your message needs changing. Additionally, you never have to worry about running out of or losing a letter or character.
Before purchasing an EMC, (particularly a LED Display Unit), it is important to know that, in rare instances, some municipalities will not allow them or, if they do, they may put a ban on animated effects. At Skyway Outdoor, we have experience working with localities across the nation and can help you obtain the necessary permits and variances for your company's message center or LED display unit.
Our sales team and design staff are ready to help. Contact us today to get a free quote on an EMC designed to meet your specific needs.