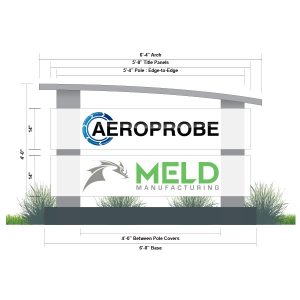 A Monument Sign is a kind of freestanding outdoor signage that is often placed adjacent to a business' driveway or near the entrance of a building. They have also become the standard choice for subdivision entrances, condominiums, and apartment buildings. Monument signs tend to be lower in height with a slightly smaller square footage than other signs. These signs are generally intended to be viewed by those in vehicles going slow-to-moderate speeds as well as by pedestrians traveling near your location.
Oftentimes, they may include an element of masonry work or reflect some kind of architectural element (such as texture, color, or style) found on the company's building. Adding a monument sign is an easy way to add a unique touch of professionalism that reassures your clients and helps to build trust even before they enter your doors. Additionally, as with all other forms of signage, monuments assist you in conveying the personality of your company.
Monuments are paramount in pinpointing the location of your company, which may be the difference between customers choosing you or missing you completely. The BrandSpark – Better Homes and Gardens American shopper study, conducted in association with the University of Cincinnati, revealed that out of 100,000 American Shoppers surveyed, a shocking 60.8% were unable to locate a store front because of insufficient signage. In fact, monument signs are so important that some local ordinances and landlords may even require them.
The most common information included on a monument sign is, of course, your company's name and/or logo along with your street address. Less common material includes your phone number and web address. In general, it is wise to avoid trying to relate too much information on your monument sign. Ideally, your potential customers should be able to read and understand your message completely with little more than a glance. Contact our professional design team today to help determine what information would be best suited for your monument sign.