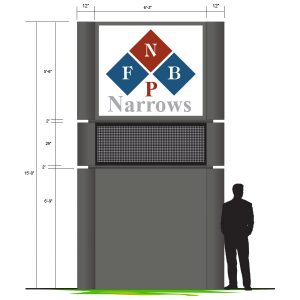 Directional Signs can help customers find your business by clearly pointing out your entrance. This is especially important if your building is not easily seen from the nearest main road or if it has a hidden entry. Directional signs can help keep traffic flowing smoothly and safely through your parking area or campus by guiding your visitors to the nearest exit as well as to visitor parking or to location-specific features that may not be visible from your location's driveway (like an ATM entrance at a bank location, a drive-thru at a restaurant, or a loading dock at a factory or warehouse). For larger companies, colleges, or hospitals, it may be necessary to include directional signs that indicate building locations and wing entrances.
In many cases, a campus map (the sort of signs that have an arrow stating "You Are Here") can be extraordinarily helpful. Such signs are commonly referred to as Wayfinding Signs. Finally, once inside your building, your customers will need to know where to go next. Various offices, elevators, stairwells, and public restrooms should be easy to find. This is where Directories come in. Directories are directional signs made to help your visitors navigate your building confidently and comfortably. Directory signs may be located at the main entrances of a building, beside (and inside) elevators, and at points where hallways meet.
The more care you put into making your building easy to maneuver, the less stress your guest will experience during their visit. You can reap the benefits of this low-stress experience as well. Not only will you be less likely to experience late or missed appointments due to clients losing their way, your customer will remember how at-home and comfortable they felt while on your property and will be more likely to return again and again. Contact us today and allow Skyway Outdoor, Inc. to help navigate your directional signage needs today!