Your sign lets customers know where your building is but what happens when they want to come inside? Are there multiple turn-ins for the parking lot? Are there other parking lot entrances nearby that would confuse potential customers as to where they should turn? Is there an exit only? If you're part of a strip mall or shopping mall, will they know which direction is the shortest, quickest route to your store? A Directional Sign is the simple answer to these questions.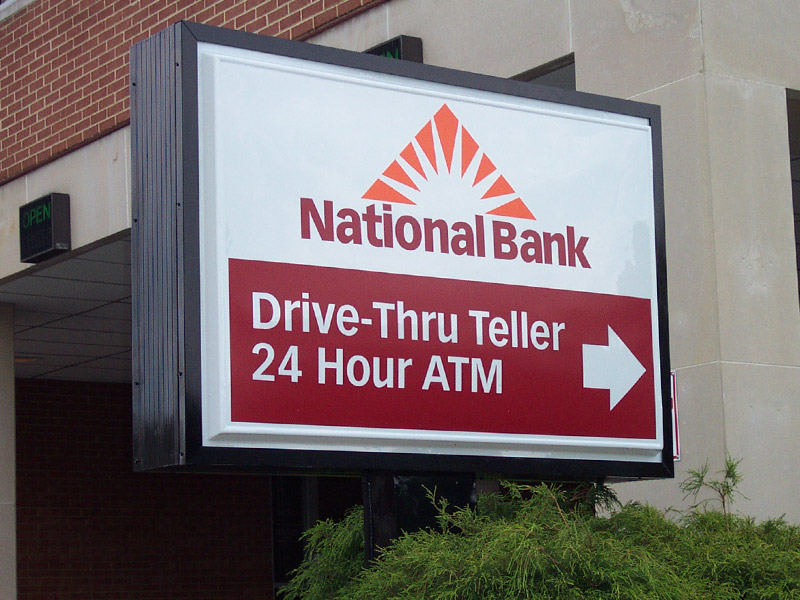 What is a Directional Sign?
Malls and banks utilize directional signs frequently to ensure their customers can easily navigate their parking lots and safely arrive at their desired destination with as little confusion as possible. There are two main types of directional signs, each with various purposes. We're here to help you understand the purpose of each one and decide which type you need.
Exterior Directional Signs
Exterior directional signs sometimes have a business's name at the top to clearly identify which business it belongs to. They typically display store names and/or certain services. (ex: Drive-thru, ATM, Parking, etc.). Arrows are added to help direct customers so that traffic flows smoothly. "Entrance," "Exit Only," and "Do Not Enter" are also forms of directional signs as they tell customers were to go or where not to go.
Interior Directional Signs
Once inside, interior directional signs or way-finding signs aid customers in navigating the building. Whether it is a multi-floor office building or a single level department store, these signs tell the customer which floor or department they need. They come in many forms and sizes, such as wall mounted plaques, ceiling mounted hanging signs, wall signs, or free-standing floor signs, to name a few.
We're ready to discuss these options with you. Give us a call and we'll help you get started.